The Carnegie Corporation of NY invited GOOD to a convening of leaders in STEM (Science, Tech, Engineering, Math) education. Together we decided collaborative action was needed, and 100kin10 was born—a collective impact body that has become a prominent example of best in class private–public partnership.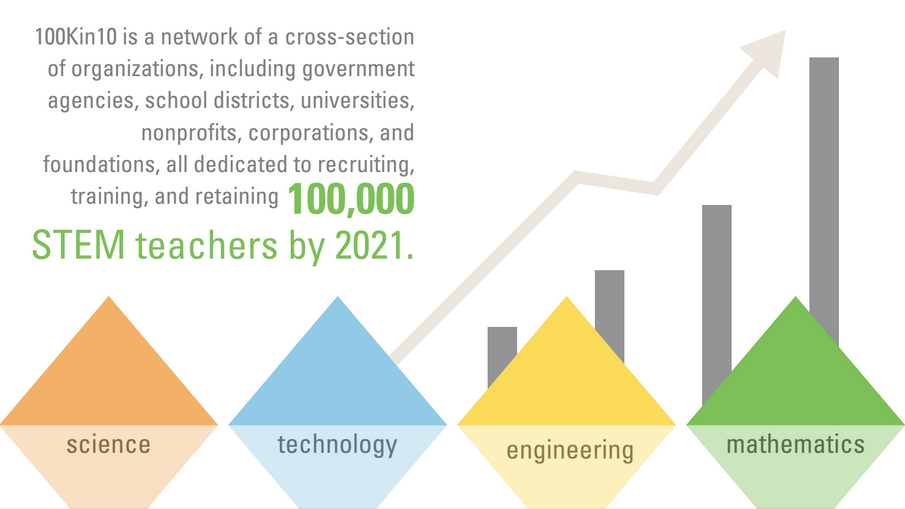 What GOOD did
As a key partner in the first conversations, GOODcorps helped launch and continues to support 100kin10, a multi-sector network focused on recruiting and retaining excellent STEM teachers.
Since it's founding in 2011, 100kin10 has grown from 28 organizations to nearly 250 rigorously vetted partners across the private, public and government sectors, ranging from Google to NASA to universities to Sesame Street. More than $75 MM of private funding has been raised for the effort, and President Obama has mentioned it in multiple State of the Union Addresses.
GOODcorps presented a range of possible strategic interventions that resulted in a proprietary crowdfunding initiative. GOOD managed every aspect of the campaign from design through implementation, including application outreach, fundraising training, grant agreements, and advising on socially impactful marketing activations, including TV spots, a documentary feature, point-of-sale donations, loyalty program and employee engagement. This authentic movement leveraged all of DICK's' assets to build an emotional connection with customers and employees while simultaneously crowdsourcing funds.
Highlights
550,000

Donors Engaged

$

4.6

Million

Funds Raised

377

Million

Visits to Site
184 recipient youth sports teams in 35 sports raised 100% or more of their goal
15,000+ young athletes supported
Winner of Grand CLIO Sports Award for Integrated Campaign
98% rating from the participating teams
340+ celebrities, athletes, and other influencers engaged in Sports Matters
173 Million total social media impressions