Stop SOPA
A Swift, Singular Political Action
In 2012, Google was anticipating a Congressional bill that would minimize the freedom of the internet and could potentially cripple the innovation economy. They reached out to GOOD for help strategizing and executing a bold campaign to take a stance against the bill.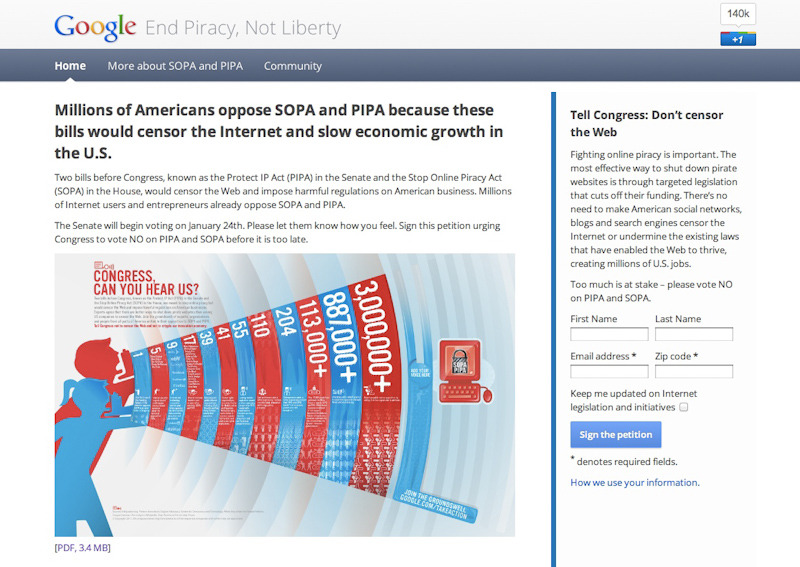 What GOOD did
We teamed up with Google to develop a call to action to Stop SOPA (Stop Online Piracy Act) and PIPA (Protect IP Act) and preserve a free and open internet. Google featured the call on their homepage, and in one day, over 7 million people signed the petitions—the most petition signatures in history— 19 senators changed their positions and the legislation was shelved. A press-mention in the New York Times noted Senator Ron Wyden (D-OH) saying "It's going to be a new day in the Senate. The way citizens communicate with their government is never going to be the same."
GOOD worked closely with Google to design this call to action for their one-day push around the issue. Beginning with a research phase, we ultimately created an accessible infographic explaining the legislation and Google's position to rally against it. This was linked on Google's homepage, where people were presented with a simple petition to pledge their support.
Highlights
In one day, over 7 million people signed the petition
"It's going to be a new day in the Senate. The way citizens communicate with their government is never going to be the same." - Senator Ron Wyden (D-OH)